Solomon & Sheba: Inner Marriage and Individuation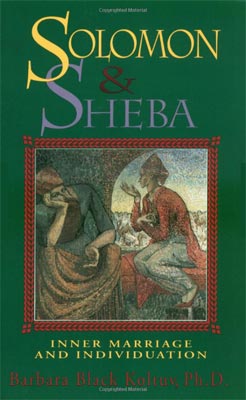 Title: Solomon & Sheba: Inner Marriage and Individuation
Author: Barbara Black Koltuv
Publisher: Nicolas-Hays (April 1993)
Paperback: 160 pages
ISBN: 0-89254-024-9
List Price: $10.95

Editorial Summary
Dr. Barbara Koltuv shows how the process of individuation described by C.G. Jung is personalized in this love story—a great love story—the King and Queen—lovers meeting, testing each other, knowing each other, connecting with each other, and parting. The story of Solomon and Sheba can be understood on many levels. It is a love story, but it is also the splendid account of the soul's journey toward individuation and inner marriage; it is a coniunctio of the masculine and feminine principles that exist in every human psyche—male and female. The end of the journey results in a new birth—and the transformation is unmistakably a story of mystical love—and the love of God.
Dr. Barbara Koltuv is a storyteller. She retells the story of Solomon and Sheba so that we can all share in the dreams and images and meaning that this ancient tale holds for each of us.
A&E Video Productions
A&E produced three television shows for their Ancient Mysteries and Biography series based on Solomon and Sheba: Inner Marriage and Individuation by Barbara Black Koltuv, Ph.D. Dr. Koltuv appears in all of them talking about the psychology of intimate relationships, spiritual journeys, and inner and outer marriage.
Video: Solomon and Sheba: An Epic Love Story